Ritter Public Library receives its main income from the following three areas:
1. Property Taxes
2. State Public Library Fund (PLF)
3. Interest on investments, fines, copy machine fees, etc.
Ohio's Public Library Fund (PLF), which makes up almost half of revenue for the library, is based on monthly General Revenue Fund tax revenues (sales tax, personal income tax, and Commercial Activity tax). The PLF is scheduled to receive 1.7% of the GRF revenues each month. Due to COVID-19 and the considerable reduction in economic activity in Ohio since mid-March, library funding has been significantly decreased. This decrease has caused the majority of Ohio libraries, including Ritter, to make some drastic, unforeseen funding cuts. At this time, it is nearly impossible to predict the path that state funding will take moving forward. Ritter Public Library continues to be dedicated to serving our community in whatever way possible during these uncertain times. We are lucky to have the Ritter Public Library Foundation and the Friends of Ritter Public Library. Both of these organizations have generously donated to the library so that we are able to boost our online services, including offering an online Summer Reading Program! We will be updating the website with any new financial information as it is received.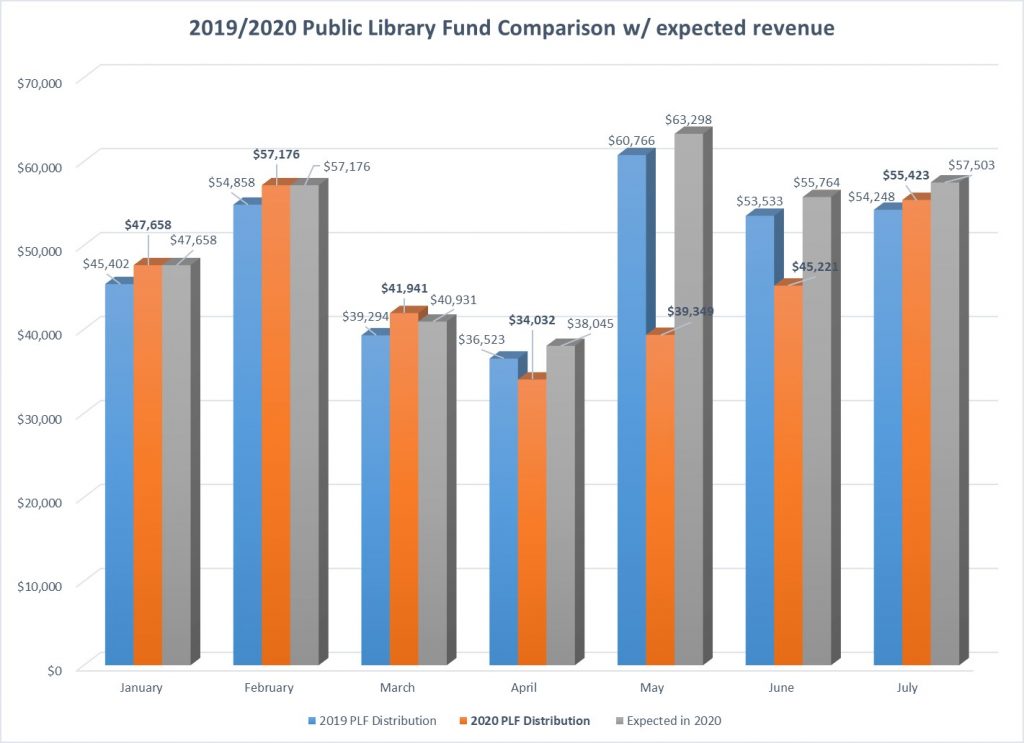 Updated July 14, 2020
This graph illustrates the monthly distributions the library receives from the Public Library Fund. The first bar represents our 2019 distributions. The second bar represents our 2020 distributions. The third represents what we were expecting to collect each month in 2020. The library saw an approximate 38% decrease in funding than what was expected in May 2020, and an approximate 20% decrease in June 2020. These decreases are expected to continue, but to what extent remains to be seen at this time. Once the State passes their budget in July, we hope to know more. This graph will be updated each month.